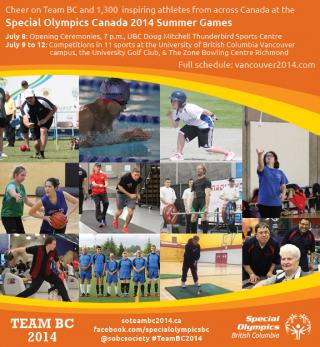 Largest-ever Special Olympics BC provincial team set for first home-province National Games since 1990
With the Special Olympics Canada Summer Games set to return to British Columbia this year for the first time since 1990, the 359 members of Special Olympics BC's biggest provincial team ever are ready to shine on this significant national stage.
Team BC 2014 is comprised of 275 athletes with intellectual disabilities, 70 coaches, and 14 mission staff from 39 communities around the province. At the Special Olympics Canada 2014 Summer Games in Vancouver July 8 to 12, the SOBC athletes will go for gold in 11 sports: 10-pin bowling, 5-pin bowling, aquatics, athletics, basketball, bocce, golf, powerlifting, rhythmic gymnastics, soccer, and softball.
"The Special Olympics Canada 2014 Summer Games are the first National Games to be held in B.C. since 1990, and our athletes are going to be ready to dominate on home soil," said Shawn Fevens, Team BC Chef de Mission. "Team BC has a dedicated and talented group of athletes and coaches who have been working hard for three years to reach this level. I know their abilities and their sportsmanship will inspire everyone watching and will show what is so amazing about Special Olympics sport."
Since qualifying for their spots on Team BC 2014 through their performances at the 2013 Special Olympics BC Summer Games in Langley, the provincial team athletes and coaches have been hard at work with the team training program to help them be at their best at the National Games. The athletes have been putting in a lot of time and effort in their home communities both on and off their fields of play, logging hours of training in their sports as well as taking on dry-land training, improving their physical fitness, and stepping up their nutrition.
Team BC athletes and coaches have benefitted from significant support from the world-class Allinger Consulting International team – authors of the Own the Podium program – as well as coaches and trainers from the University of British Columbia, Simon Fraser University, provincial sport organizations, mental performance consultants, and other expert organizations. For the first time, Team BC is also using elite sport science, technology, and tracking tools to help our athletes and coaches be at their very best when it comes time to compete at the 2014 Games venues at the UBC Vancouver campus, the University Golf Club, and The Zone Bowling Centre in Richmond.
Special Olympics competitions operate on a four-year cycle for both summer and winter sports. Athletes compete in regional events and then Provincial Games to advance to National Games, and Special Olympics Canada Games are the qualifiers for Special Olympics World Games. In Vancouver, athletes will be competing for the opportunity to advance to the 2015 Special Olympics World Summer Games in Los Angeles. Through these competitions and training, Special Olympics athletes empower themselves and inspire everyone around them as they set and achieve goals, build pride and confidence with their achievements, and forge valued friendships.
The Special Olympics Canada 2014 Summer Games will see 1,700 Special Olympics athletes, coaches, and mission staff members from across the country come together to compete in Vancouver, creating an outstanding display of sport and sportsmanship in 11 sports, including three making their debut at the National Games level: basketball, bocce, and golf.
About Special Olympics BC
Special Olympics BC is dedicated to providing individuals with intellectual disabilities opportunities to enrich their lives and celebrate personal achievement through positive sport experiences. In 57 communities around the province, we provide year-round training and competitive opportunities in 18 different sports to more than 4,300 athletes of all ages and abilities, thanks to the dedicated efforts of over 3,300 volunteers. For more information, please visit
www.specialolympics.bc.ca
. Find us on Facebook and Twitter:
www.facebook.com/specialolympicsbc
| @sobcsociety.
Media contact
Megan Grittani-Livingston
SOBC Manager, Communications