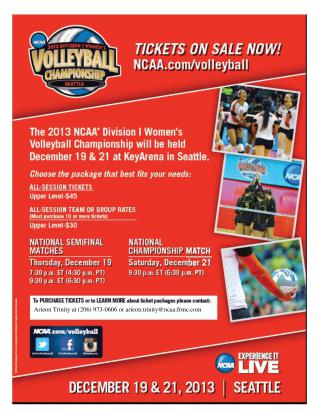 My name is Arieon Trinity and I am reaching out to you on behalf of the NCAA to let you know about the 2013 Divison I Women's Volleyball Championship being played at the KeyArena in Seattle, WA. Also, during the Championship Weekend is the AVCA's Annual Coaches Convention December 18-22nd at the Washington State Convention Center! I wanted to reach out to you directly so you would have the best chance to attend the championships on December 19th & 21st! 
The AVCA' Annual Coach's Convention is the largest gathering of volleyball coaches and vendors in the world. More that 2,000 coaches, 100 exhibitors and 70 educational sessions featuring the top coaches in the US and Canada, The Head Coach of The University of British Columbia will be one of our Keynote speakers. Programming geared to all levels, indoor & beach male and female players. Package pricing ranging from $469 for 5 days to $189 for the weekend only.
The best part for you, your family, friends, and coaches is that the NCAA is offering great group rates for groups 10 people or larger, as well as great individual All-Session rates with NO additional FEES!
All you need to do is contact me directly at 206-973-0606 and we can hand pick your exact location and make sure you have the best seats in the house.
I am looking forward to talking with you soon and having you out to the KeyArena for the 2013 Women's Volleyball Championship! I hope to hear from you soon!