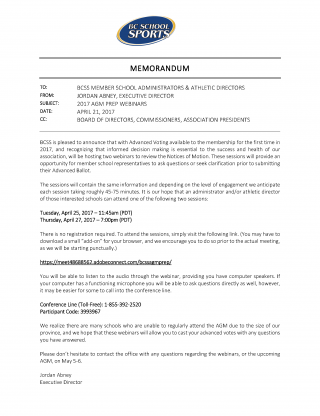 BCSS is pleased to announce that with Advanced Voting available to the membership for the first time in 2017, and recognizing that informed decision making is essential to the success and health of our association, will be hosting two webinars to review the Notices of Motion. These sessions will provide an opportunity for member school representatives to ask questions or seek clarification prior to submitting their Advanced Ballot. 
The sessions will contain the same information and depending on the level of engagement we anticipate each session taking roughly 45-75 minutes. It is our hope that an administrator and/or athletic director of those interested schools can attend one of the following two sessions:
Tuesday, April 25, 2017 – 11:45am (PDT)
Thursday, April 27, 2017 – 7:00pm (PDT)
There is no registration required. To attend the sessions, simply visit the following link. (You may have to download a small "add-on" for your browser, and we encourage you to do so prior to the actual meeting, as we will be starting punctually.)
https://meet48688562.adobeconnect.com/bcssagmprep/
You will be able to listen to the audio through the webinar, providing you have computer speakers. If your computer has a functioning microphone you will be able to ask questions directly as well, however, it may be easier for some to call into the conference line.
Conference Line (Toll-Free): 1-855-392-2520
Participant Code: 3993967
We realize there are many schools who are unable to regularly attend the AGM due to the size of our province, and we hope that these webinars will allow you to cast your advanced votes with any questions you have answered.
Please don't hesitate to contact the office with any questions regarding the webinars, or the upcoming AGM, on May 5-6.
Jordan Abney
Executive Director