AA GIRLS VOLLEYBALL PROVINCIAL CHAMPIONSHIPS @ MEI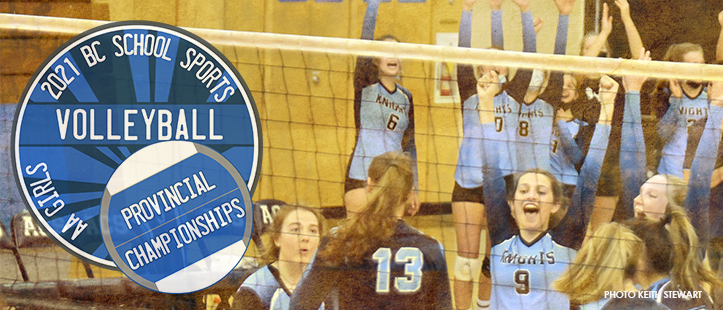 NEW DATE ANNOUNCED FOR PROVINCIALS: DEC 9-11 



 
REGISTRATION UPDATE:
ALL 16 teams have successfully registered for Provincials:
| | |
| --- | --- |
| Team Name - Including School & Nickname | Zone |
| Mulgrave Titans | VS2S |
| Selkirk Storm Thunder | Kootenays |
| Summerland Secondary School - Rockets | Thompson Okanagan |
| Smithers Secondary Gryphons | Northwest |
| West Point Grey Academy (WPGA) Wolves | Sea to Sky |
| DP Todd Secondary Trojans | North Central |
| Archbishop Carney Regional Secondary School (Nickname: ACRSS) | Fraser North |
| York House Tigers | Vancouver Sea to Sky |
| Holy Cross Crusaders | South Fraser |
| St. Michaels University School - Blue Jags | Vancouver Island |
| Abbotsford Christian Knights | East Valley |
| Langley Fundamental Titans | EVAA |
| Brentwood College School | Vancouver Island |
| MEI EAGLES | HOST |
| Notre Dame Jugglers | Vancouver Sea-to-Sky |
| MacNeill Ravens | South Frasers |

Here is the PRE- TOURNAMENT REGISTRATION INFORMATION Listed Below:
ALL TEAMS HAVE COMPLETED REGISTRATION! LATEST EMAIL is Coaches Info Dec 3.pdf

BC SCHOOL SPORTS WILL BILL YOUR SCHOOL DIRECTLY (TOURNAMENT ENTRY FEE $450)

TEAM PHOTOS WILL TAKE PLACE SCHEDULED BEFORE YOUR FIRST GAME. 


TEAM PRACTICE IS AVAILABLE FOR 60 min on WEDNESDAY EVENING- THIS EMAIL HAS BEEN SENT OUT
*PLEASE NOTE- THERE WILL BE NO BANQUET OR OPENING CEREMONIES AVAILABLE TO US THIS YEAR.
NOTE: PLEASE BRING A WRAPPED GIFT FOR RANDOM TOURNAMENT DRAW FOR COACHES AND PLAYERS
We are also asking Each Team to bring either 1 present/gift worth $50 or 2 presents/gifts worth $25 each. Fully
wrapped and with a encouraging message to the person who will receive it. Please also state which team this is
from (to make sure you don't accidently receive your own gift). We will be going around the tournament and
random drawing names from our tournament draw and each team will receive a gift or 2 from this collection of
presents. Coaches are included in this random draw!
COST
Adults $5/day or $10/tournament Pass- will be available for purchase at all three buildings. 

Students are Free

Our School Leadership Class is also accepting Food Donations to the Abbotsford Food Bank. This
is to support all those families in need during this time of year. Please remind your parents that
if they make a food donation in $5 value or more- they can receive a Tournament Program for
free. (Worth $5).

COVID SAFETY
We are allowing fans in our buildings and have the luxury of having ample seating capacity in each gym without being too close to the athletes. We will not be conducting vaccine checks but simply ask that all BCSS Return to Sport guidelines are adhered to, primarily all spectators must wear masks along with coaches and players not on the court. 

In addition, we will not permit teams to wander inside any of the school buildings while school is in session. We would ask that you stay in the gym area or go outside. 

Similarly, we will not have a concession or coaches' room which is unfortunate, but a reality given the current situation.

 




STREAMING LINKS:
HIGH SCHOOL (LIVE 1)

MIDDLE SCHOOL (LIVE 2)

ELEMENTARY (LIVE 3)

VENUE
MEI SCHOOLS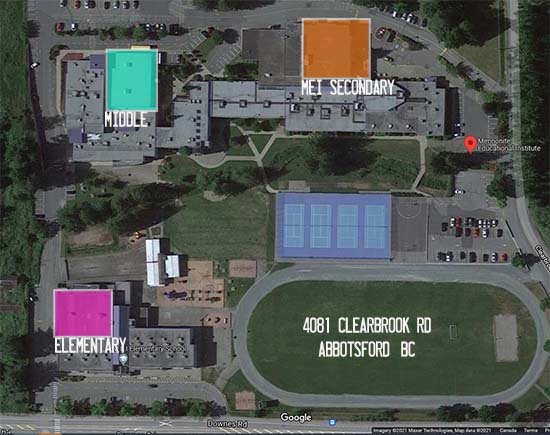 TOURNAMENT HOTEL (Up to 65 rooms have been blocked off between the two hotels)
$109+taxes/night/room
SANDMAN HOTEL & SUITES ABBOTSFORD

32720 Simon Avenue | Abbotsford BC | V2T 0B8

Phone 604 556 7263 | Fax 604 556 7253 | Direct 604 557 2140

SANDMAN HOTEL ABBOTSFORD AIRPORT

3010 Mt. Lehman Rd | Abbotsford BC | V4X 2L4

Phone 604 859 7263 | Fax 604 859 7264 |

 
Championship Date
December 9, 2021

to

December 11, 2021
Championship Entry Deadline
Zone Events Completion Date
Zones must notify commission of their intent to fill berths by